Panda Camp Management software is a cloud-based web application for managing camps, accommodation, contacts, and more at camp-sites.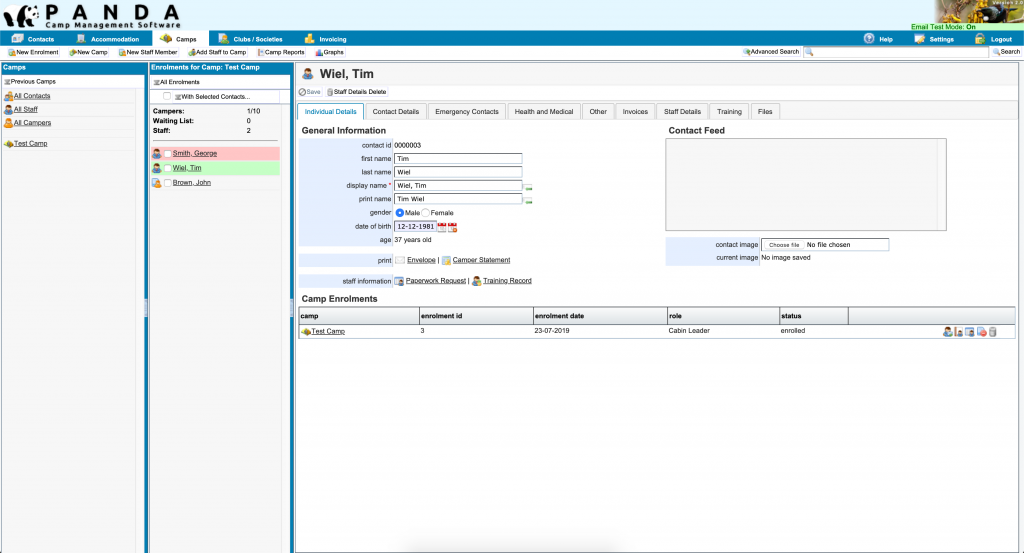 Features include:
Contact Management
Camps Management
Accommodation / Bookings Management (with Google Calendar integration)
Invoicing (with Xero integration)
Clubs / Societies Membership Management
Incident Register (Accident/ Incident / Safety Concern Reporting)
Basically the software is a full solution of all camp-site related activities.
CYC Waihola (a youth camp in South Otago) has been part of the active development (and the test bed for) of this application for the past 15 years where it has been used exclusively for the management of camps (including enrolments), society administration, accommodation bookings and newsletter mail-outs.
It is designed primarily for use at New Zealand camps-sites that host external groups and/or run OSCAR standard kids camps. 
Detailed Feature List:
Main Features:
Multi user online system – ie several users in different parts of the office (or even world) can access the system at the same time
Cloud based software so works everywhere on a browser (PC, Mac, Linux, iPad, Android, smartphones)
Unlimited contacts
Unlimited groups to sort contacts into
Contacts can be grouped into multiple groups
Export to vCard, CSV, HTML, PDF labels, PDF envelopes and XML formats
Powerful donation tracking including printing end of year donation receipts
Print reports, receipts, labels and envelopes directly from the system
Mailout features to allow mailing contacts directly via email (postage is getting expensive in this country!!) and keep track of previous mail-outs – this feature is very good for newsletter mail-outs and board meeting notifications.
Contact File Management - upload records against individual contacts
Camp Module Features:
Based around the New Zealand Ministry of Social Development (OSCAR child-care) standards
Add unlimited camps for campers to enrol in

with fees management (including discounts)
Set max numbers with waiting list capabilities

Make contact regularly with campers and leaders throughout the enrolment process
Invoicing for camp fees with live Xero integration
Run camps based on OSCAR standards

prints attendance lists, fire evacuation sheets, health issues forms, over due fees, reports
easily demonstrate all requirements during MSD Childcare audit

Camper Management

Health Issues
Medications
Dietary
Complete camp history builds up picture of camper numbers, camp attendance.
Green / Yellow / Red flag campers to indicate issues with behaviour / health at past camps

Staff Management

Add as many staff as you want
OSCAR standards managed – police checks, application forms, references and referees, staff evaluations, staff training
Assign different roles to staff within camps
Email staff directly forms and training information

Upload files related to staff and campers for ease of access and for new OSCAR electronic pull-up system requirements
Camps be booked on-site using the Accommodation integration

Accommodation Module Features:
Add different areas of accommodation
See at a glance group accommodation on offer, confirmed, paid.
Templated Emails to groups about different stages of the booking process
Track cancelled groups
Book groups into different areas of camp-site
Track activities used by groups
Powerful invoicing of groups after stay including live Xero integration
Powerful bed night tracking and reporting
Syncs to Google Calendar for easy and quick booking checks
Societies Module Features:
Track society membership with ease
Expire or resign members with ease
Invoice all members for membership subscription and keep track of fees paid
Powerful donations tracking
Health and Safety Module Features:
Cloud based incident register for recording and tracking incidents
Record action taken, further notes, etc. in one place for audits
Print reports for board meetings
Xero Plugin Features:

Creates invoices live into Xero Accounting software
Syncs payments automatically between Xero and PANDA
Integrates Xero Tracking and Branding
Current Version:
Current Users:
Christian Youth Camps (Waihola) Inc
Camp Manaia (Northland)
Coopers Beach Christian Camp (Northland)
Lakeland Park Christian Camp (Queenstown)
Pricing of PANDA

PANDA costs $20 per month to cover the hosting and basic costs of bug fixes and upgrades. Licencing of PANDA is best described as "ministry source" – code ownership remains Tim Wiel's along with any changes made. Changes and feature requests are possible but require us to charge for the work done and the work is shared amongst all other users of the software.
We are happy to work something out. Please email tim@panda-cms.nz for a demo and for more information.

Venue360 is the ultimate camp software package for all venues, camp-sites, events and more!
PANDA camp software is designed for smaller camp-sites with 1-5 accommodation basic areas and/or basic child-care type camps (i.e. NZ OSCAR standard type holiday camps using volunteers as leaders).

For bigger or more complex venues/camp-sites PANDA will not be suitable for you.
So if your camp-site/venue is:
a large multi-site camp
OR has very large numbers of multi-faceted bednights
OR you need resource (activities, rooms, etc.) management and scheduling
OR run lots of event (ticketed) type based camps
OR want to do live online enrolments using social media, website front-ends, etc
OR PANDA doesn't do this feature or that feature
... then I highly recommend Venue360. It is the "next step up" from PANDA. I'm involved a little bit in the world-wide development team of this software and so can highly recommend it.
See https://www.venue360.com/ for more information.